Janitorial Services That Meet Your Needs
Create a custom cleaning plan of services specific to your business, facility, and cleaning needs
Vacuuming carpeting & spot cleaning
Deep cleaning carpeting with carpet shampoo
Sweeping & mopping hardwood/tile floors
Dusting & polishing furniture
Cleaning & sanitizing bathroom fixtures
Cleaning kitchen/break room appliances & fixtures
Green cleaning
Emptying trash & recycling
Dusting blinds, air vents, ceiling fans, and any other hard-to-reach surfaces
We Go Above and Beyond
Our exclusive value-packed commercial cleaning offer includes annual services that are complimentary
Pressure wash main lobby entryway
Interior & exterior lobby windows cleaning (up to 15 feet)
Deep clean carpeting
Deep clean floors
send request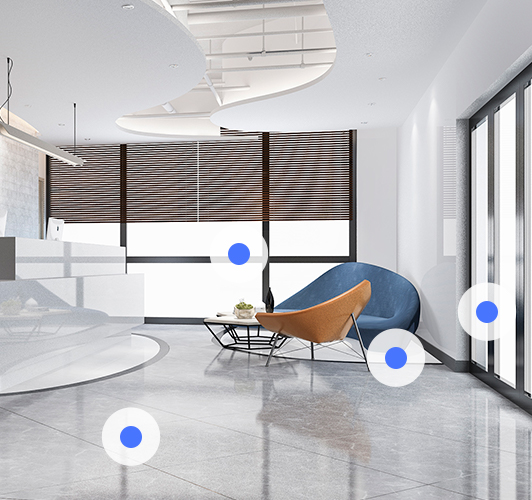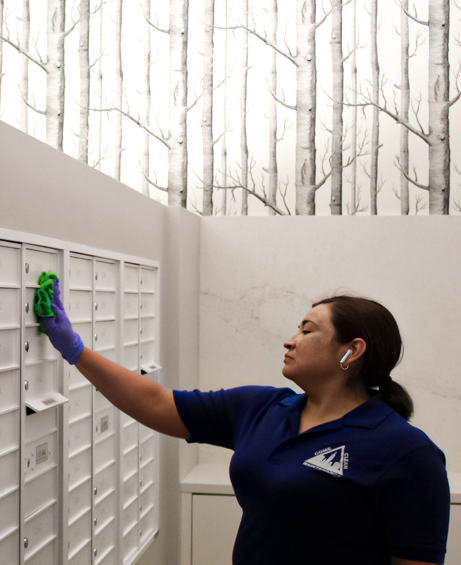 Why Trust Us?
Enjoy the exceptional level of custom-tailored service you won't find elsewhere
FAST RESPONSE
Immediate attention to your cleaning matters 24/7/365
INDUSTRY EXPERIENCE
Trained cleaning professionals with hands on experience since 1990
PROFESSIONAL EQUIPMENT
The best cleaning supplies guaranteeing a clean you can rely on
CUSTOMIZED APPROACH
Flexible schedule options and a detailed cleaning plan specific to your business
Have all your cleaning matters taken care of in just one click
Got questions? Feel free to contact us for more information
FAQ
Do you serve all industries?
Yes. No matter your industry, business size, design, and what you sell, we ensure that your business has a clean, professional, brand new look, allowing you to focus on your organization's core tasks.
What facility types do you serve?
We cover them all! Our commercial janitorial services include facilities such as schools from preschool to high school, medical and dental offices/clinics, office spaces, retail business from restaurants, to car dealerships, to clothing stores, etc., banks/financial institutions, high-tech companies, laboratories, and more. While we cover all kinds of facilities, no matter how large or small, our cleaning services will be specific to your business and your cleaning needs.
How do we start and what is the process like?
Once you contact us, our professionals will create a detailed cleaning plan specific to your business, including a plan for inspections your business must pass. This plan will include task schedules and specifications that will ensure nothing is missed.
Are your cleaning services programs fixed?
Our cleaning plans as well as scheduling options are always flexible, able to fit your business' individual needs.
What are the benefits of hiring a cleaning service business over an individual?
Cleaning might sound easy at first, but it is really a time-consuming process and an added stress for business owners. That's where we come in. Our professional cleaners have the right equipment, chemicals, and other supplies as well as years-long experience to provide the highest quality clean in the most time- and cost-effective manner.
How can my business benefit from professional janitorial service?
The way your business looks can be the thing that brings customers in or sends them running out the door. Let alone, a positive, clean environment is one of the best morale and productivity boosters for your employees. You'll never have to worry about dirt, dust, germs, etc. as our professional cleaning crew knows how to get the job done right and give your business a professional look and a healthy environment for your clients and your staff. With CCM, you can simply focus on your company's core business, while we make your business shine!
Who Do We Serve?
Commercial Office Buildings
Corporate Campuses
Big Box Retail Stores
Distribution Centers
Financial Institutions
Restaurants
Medical Groups
Factories & Industrial Buildings
Shopping Centers
Apartment Complexes
Government Facilities
Hotels
Airports & Transportation Facilities
Sports & Athletic Complexes
What Our Customers Are Saying About Us

Our site is looking and feeling so much cleaner. My prospects and residents have made comments and my Regional was here yesterday and noticed it. I am thrilled with the progress and love that CCM is very present and invested.
Deborah, Senior Community Manager, Luxury Residential Building in SOMA, SF

I wanted to express how thankful and happy I am with your team's services! It is reassuring to know whether I need assistance in window washing, maintenance services or pressure washing, your company is able to help with all three. I cannot stress how you make my job so much easier as your team is always dependable, reliable and most importantly, trustworthy in regards to completing the job accurately and efficiently. In addition, you allow me to shine with my Board as your prices are reasonable and I always look like a superstar when it comes to our budget season. Thank you again for everything you have done these last four years! I look forward to another four years working with you and your company! I truly appreciate how much you care about my buildings!
Lizzette Hasbun, Vida Management Team

We have 261 units at the Rockwell and Come Clean Maintenance cleaned all the exterior windows including the calcium removal. Residents reported the windows are so clear and sparkling! Very friendly, meticulous and professional service. A pleasure to deal with, I highly recommend your company and will have you return for future work. Thank you again to your wonderful and professional staff for the FANTASTIC job they did!
Annett Wagner, General Manager

I have been using CCM to clean our property building windows for several years, and have always been completely satisfied with their performance. They do an excellent job, offer the most competitive rates in town, and easy to get a hold of. We are also considering hiring them to deep clean (power wash) our basement parking lot. CCM has been very reasonably priced, always do exactly what we ask of them.
Doveenic Cacacho, CBRE

I am super happy with our new engineer from CCM who has taken on the task of filling in the holes, sanding and painting all the dents, marks etc. that were related to the construction in the open stairwell on all 14 floors. The difference is amazing!
Jeff Leiberg, Property Manager, SSA Real Estate Management