Covid-19 Cleaning & Disinfecting Services You Can Rely on
CCM uses a combination of strategies to give you the best possible outcome
1

Disinfection + Sanitization

Combining cleaning and sanitizing that produce a synergistic effect for the ultimate clean.
2

Focus on High Spread Areas

Paying extra attention to high-touch spots: door knobs, elevator buttons, telephones, railings, appliances, etc.
3

Deep Clean Services

Using thorough cleaning methods that ensure no surface is left unattended.
4

Electric Dispersal Systems

Using electrostatic spraying that provides even disinfection and sanitization to a variety of hard-to-clean surfaces.
5

Effective Disinfectants

Utilizing hospital-grade disinfectants that kill germs and viruses and provide peace of mind.
6

CDC, OSHA & EPA Compliant

Adhering to the latest standards and procedures to ensure the best, safest strategies are being used.
Stay Protected At All Times With Our Office Safety Pack
Order COVID-19 disinfection packages that include professional cleaning, sanitizing, and personal protective supplies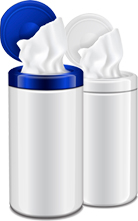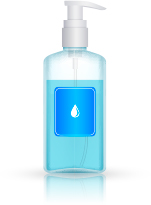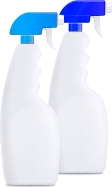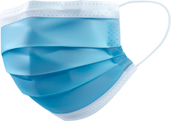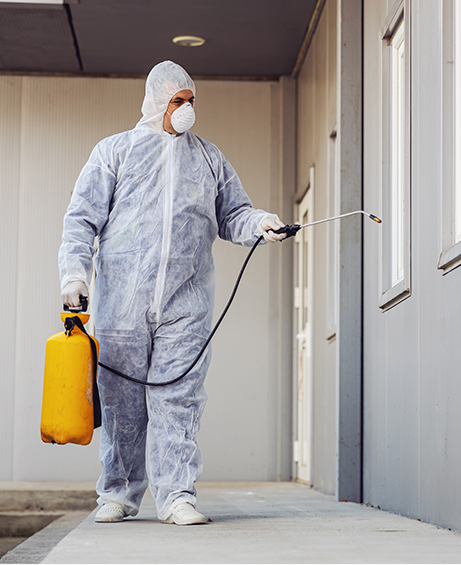 Why Trust Us?
Enjoy the exceptional level of custom-tailored service you won't find elsewhere
FAST RESPONSE
Immediate attention to your cleaning matters 24/7/365
FLEXIBLE APPROACH
Custom cleaning options at a frequency of your choosing from 1 day/week to 7 days/week
INDUSTRY EXPERTISE
Trained cleaning professionals with hands on experience since 1990
SPECIALIZED EQUIPMENT
The best cleaning supplies guaranteeing a clean you can rely on
Discover the most powerful tools to keep your facility safe during COVID-19!
Got questions? Feel free to contact us for more information
FAQ
Can cleaning and disinfection services protect my company against COVID-19?
Unfortunately, the coronavirus is a deadly disease and we need to use everything we have at our disposal to protect ourselves from it. Limiting the spread of coronavirus is our best current option for fighting it. One reason why COVID-19 spreads so easily is that it lives for so long. The virus can last from hours to days, depending on the surface. Disinfecting surfaces frequently will reduce the presence of the virus and, therefore, decrease the chances of getting infected or bringing the virus into your home. Besides, the amount of virus you are initially exposed to is likely to determine the ultimate illness severity. In a time when a lot of people may potentially be infected, regular cleaning is absolutely crucial for lowering viral loads in an office setting.
How do you know what's effective in killing this virus and ensure effective disinfection against COVID-19?
While cleanliness is always our priority, now that the world is in the middle of the COVID-19 outbreak, we are determined to provide the best services possible. We use EPA-approved disinfectants and follow the guidance for cleaning and disinfecting public spaces, facilities, and businesses developed by the CDC to prevent the spread of coronavirus. We are also paying close attention to any updates the CDC gives to get the most current and accurate information on COVID-19 disinfection procedures and ensure that we provide the most effective defense for your business.
When is electric and electrostatic spraying used? How does it work?
Some places are harder to clean than others. For these areas, CCM utilizes electric and electrostatic dispersal systems. Electrostatic sprayers work by giving the cleaners, disinfectants and sanitizers a positive charge as they leave the sprayer. This makes the droplets actively repel one another and stick to surfaces more effectively. Using electrostatic disinfection allows for an even distribution of cleaning chemicals, making it an extremely effective way of cleaning large areas or areas with a variety of surfaces.
Who Do We Serve?
Commercial Office Buildings
Corporate Campuses
Big Box Retail Stores
Distribution Centers
Financial Institutions
Restaurants
Medical Groups
Factories & Industrial Buildings
Shopping Centers
Apartment Complexes
Government Facilities
Hotels
Airports & Transportation Facilities
Sports & Athletic Complexes
What Our Customers Are Saying About Us

Our site is looking and feeling so much cleaner. My prospects and residents have made comments and my Regional was here yesterday and noticed it. I am thrilled with the progress and love that CCM is very present and invested.
Deborah, Senior Community Manager, Luxury Residential Building in SOMA, SF

I wanted to express how thankful and happy I am with your team's services! It is reassuring to know whether I need assistance in window washing, maintenance services or pressure washing, your company is able to help with all three. I cannot stress how you make my job so much easier as your team is always dependable, reliable and most importantly, trustworthy in regards to completing the job accurately and efficiently. In addition, you allow me to shine with my Board as your prices are reasonable and I always look like a superstar when it comes to our budget season. Thank you again for everything you have done these last four years! I look forward to another four years working with you and your company! I truly appreciate how much you care about my buildings!
Lizzette Hasbun, Vida Management Team

We have 261 units at the Rockwell and Come Clean Maintenance cleaned all the exterior windows including the calcium removal. Residents reported the windows are so clear and sparkling! Very friendly, meticulous and professional service. A pleasure to deal with, I highly recommend your company and will have you return for future work. Thank you again to your wonderful and professional staff for the FANTASTIC job they did!
Annett Wagner, General Manager

I have been using CCM to clean our property building windows for several years, and have always been completely satisfied with their performance. They do an excellent job, offer the most competitive rates in town, and easy to get a hold of. We are also considering hiring them to deep clean (power wash) our basement parking lot. CCM has been very reasonably priced, always do exactly what we ask of them.
Doveenic Cacacho, CBRE

I am super happy with our new engineer from CCM who has taken on the task of filling in the holes, sanding and painting all the dents, marks etc. that were related to the construction in the open stairwell on all 14 floors. The difference is amazing!
Jeff Leiberg, Property Manager, SSA Real Estate Management