Our Window Cleaning Services
We offer a variety of commercial window cleaning services that will cover all of your window washing needs
Clean both exterior and interior windows
Remove, clean, and reinstall window screens
Clean tracks and sills
Clean hard-to-reach skylights
Clean sensitive solar panels
Clean windows post-construction
Benefits of Commercial Window Cleaning
Investing in high-quality window cleaning is a business approach that pays off big time
1

POSITIVE APPEARANCE

Give your business a professional, clean look that projects the right company image.
2

PROFESSIONAL CLEAN

Get a truly deep clean that can't be achieved by simply using Windex and paper towels.
3

EYE-CATCHING STOREFRONT

Convert your window shoppers into buyers with an appealing window product display.
4

IMPROVED DURABILITY

Make your windows last longer, increase their efficiency, and avoid costly repair fees.
5

EFFICIENT SERVICE

Have experts with the right tools to do the perfect cleaning job fast and safely.
6

WORRY-FREE SOLUTION

Save time, money, and energy to focus on more important business tasks.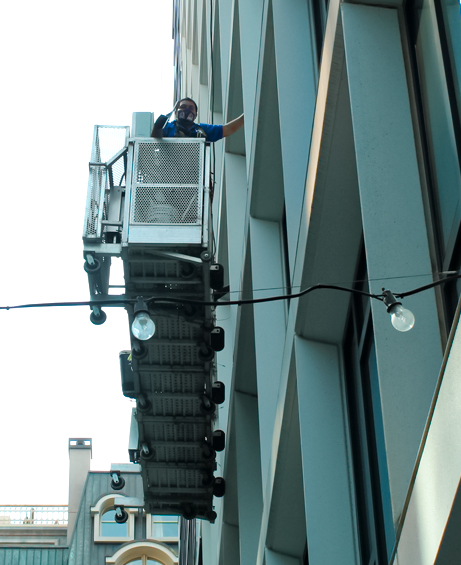 Why Trust Us?
Enjoy the exceptional level of custom-tailored service you won't find elsewhere
FAST RESPONSE
Immediate attention to your cleaning matters 24/7/365
FLEXIBLE APPROACH
Custom cleaning options at a frequency of your choosing from 1 day/week to 7 days/week
INDUSTRY EXPERTISE
Trained cleaning professionals with hands on experience since 1990
SPECIALIZED EQUIPMENT
The best cleaning supplies guaranteeing a clean you can rely on
Give your windows a sparkling shine and a fresh new look!
Receive a customized solution perfect for your needs.
FAQ
Why is window cleaning important?
Using window washing service regularly can make your windows last longer and help you avoid costly repair fees. Debris and buildup can cause a lot of wear and tear on your windows over time, which will eventually lead to you having to replace them. Not only can we help you avoid costly repair fees, but window cleaning service can also increase the efficiency of your windows. Windows that are damaged can cause a whole host of problems. For example, there could be a leak that makes your businesses heating/cooling less efficient. They can also cause your windows to fog. Or, even worse, buildup in your windows channels can make them difficult to open, which could be devastating in an emergency.
How often is professional window cleaning required?
While having clean windows is essential for any business, regular window washing is especially important for those retailers that rely on window shopping to get customers in the door. Windows go a long way to drawing in potential customers. Being able to see inside a business can grab customers' attention and get them through the door. Window shopping is going to be much less appealing for them if they have trouble seeing because of dirty windows, so keeping your storefront sparkling clean year-round is a must.
How is using a professional cleaning service different from cleaning windows myself?
Well, using a professional service is definitely more efficient. Our professional cleaners will always bring the right tools for the job. They also have in depth knowledge of how to use those tools, which will avoid uneven cleaning or streaky windows. It is also a safer option for you and your employees. Our employees know how to safely clean your business' windows without causing injury. The last thing you need is an employee falling off a ladder and injuring themselves. Professional cleaning services will save you time as well as money in the long run. Window cleaning can take a lot of time, especially if you don't use a professional service. As they say, time is money. Let us handle the cleaning so you and your employees can focus your energy on more important tasks.
Do you provide window washing along with other exterior cleaning services?
Combining our commercial pressure washing service with our commercial window washing service will be more beneficial to your business in the long term. After all, windows are only going to appear clean if the exterior and interior are taken care of.
Who Do We Serve?
Commercial Office Buildings
Corporate Campuses
Big Box Retail Stores
Distribution Centers
Financial Institutions
Restaurants
Medical Groups
Factories & Industrial Buildings
Shopping Centers
Apartment Complexes
Government Facilities
Hotels
Airports & Transportation Facilities
Sports & Athletic Complexes
What Our Customers Are Saying About Us

Our site is looking and feeling so much cleaner. My prospects and residents have made comments and my Regional was here yesterday and noticed it. I am thrilled with the progress and love that CCM is very present and invested.
Deborah, Senior Community Manager, Luxury Residential Building in SOMA, SF

I wanted to express how thankful and happy I am with your team's services! It is reassuring to know whether I need assistance in window washing, maintenance services or pressure washing, your company is able to help with all three. I cannot stress how you make my job so much easier as your team is always dependable, reliable and most importantly, trustworthy in regards to completing the job accurately and efficiently. In addition, you allow me to shine with my Board as your prices are reasonable and I always look like a superstar when it comes to our budget season. Thank you again for everything you have done these last four years! I look forward to another four years working with you and your company! I truly appreciate how much you care about my buildings!
Lizzette Hasbun, Vida Management Team

We have 261 units at the Rockwell and Come Clean Maintenance cleaned all the exterior windows including the calcium removal. Residents reported the windows are so clear and sparkling! Very friendly, meticulous and professional service. A pleasure to deal with, I highly recommend your company and will have you return for future work. Thank you again to your wonderful and professional staff for the FANTASTIC job they did!
Annett Wagner, General Manager

I have been using CCM to clean our property building windows for several years, and have always been completely satisfied with their performance. They do an excellent job, offer the most competitive rates in town, and easy to get a hold of. We are also considering hiring them to deep clean (power wash) our basement parking lot. CCM has been very reasonably priced, always do exactly what we ask of them.
Doveenic Cacacho, CBRE

I am super happy with our new engineer from CCM who has taken on the task of filling in the holes, sanding and painting all the dents, marks etc. that were related to the construction in the open stairwell on all 14 floors. The difference is amazing!
Jeff Leiberg, Property Manager, SSA Real Estate Management