San Francisco Reopening Has Hit Tier 2: What Does This Mean for Your Business?
California's reopening plan is based on a tier system, with each tier being based on the level of transmission. Tiers vary from county to county. The San Francisco area has moved from Tier 1, Widespread, to Tier 2 (Substantial). In Tier 1, most nonessential businesses were closed. Now, in Tier 2, only some nonessential businesses will remain closed. Others will be allowed to open with modifications. So, what types of businesses will reopen now that we've reached Tier 2?
Which Businesses Are or Aren't Reopening?
llowed to place further restrictions on what businesses open and what the guidelines are for reopening, but generally speaking, there are quite a few businesses that can reopen, though many must do so with conditions. For example, hair/nail salons, barber shops, family entertainment centers and wineries are only able to open outdoors. Indoor operations for these businesses are still closed. 
However, other places are allowed to open indoors with modifications and limited capacity. Businesses such as hotels, movie theaters, gyms, libraries, retailers, shopping malls, dine-in restaurants, places of worship, etc. can operate indoors, but the capacity is limited. Capacity limits also vary depending on the business type. Libraries can operate at 50% capacity, whereas gyms can only operate at 10%. Check restrictions for your particular business to find out what capacity limitations you need to work in. 
Next are businesses that are open with just modifications. Generally speaking, state and local governments, child care places, carwashes, food banks, gas stations, convenience stores and take out restaurants are all in this category. Professional sports arenas and racetracks with no spectators are also part of this category. 
There are a few businesses that will still need to operate from home. For example, nonessential offices will still need to keep their employees home. Another example is schools, though that is temporary. If the country stays in Tier 2 for a couple weeks, then they will begin reopening schools as well. This does not include colleges/universities. In Tier 2, those are open with modifications.
Check With Your County's Public Health Department for Specific Guidelines.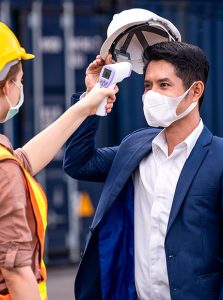 If your business is able to open under Tier 2, don't throw your doors open immediately. There are not any businesses listed to be open without modifications, so you will need to make sure you are prepared and following reopening guidelines. These modifications will vary by county, so you should read over any health orders given by your county's public health department for reopening guidelines specific to your business. 
In general, these modifications relate to policies that encourage safe social distancing practices, mask wearing guidelines, symptom checks, etc. Specific examples could be things such as providing at-risk employees with work they can do at home whenever you can. Or allowing employees to have frequent breaks so they can wash their hands. You might be required to remove things such as magazines, books, water fountains, etc. from waiting areas.